How much a part of this sport has SpikeTV's hit reality show The Ultimate Fighter become?
Following Urijah Faber's successful UFC debut last weekend, there was as much talk about him possibly coaching on season 14 of the show as there was about him getting a title shot against Dominick Cruz, and season 13 hasn't even begun yet.
Season 13 will feature only 14 welterweights with former heavyweight champion, Brock Lesnar, and current No. 1 heavyweight contender, Junior Dos Santos, at the helm. The two coaches will meet at UFC 131 in June.
Though some critics will complain that the show's format has gotten a bit stale over the last few seasons, there is no denying the number of contenders the show has brought to the public's attention. There have even been a few champions to emerge, as well.
If you're new to the show and want to play catchup, I have ranked each of the previous TUF seasons depending on its entertainment and the talent-level of the field.
Enjoy.



12. Season 12 (St-Pierre vs. Koscheck)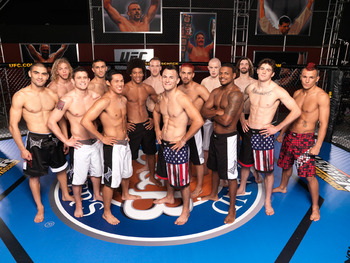 In the most recent season of TUF, welterweight champion, Georges St-Pierre, took the role of coach opposite his impending challenger Josh Koscheck.
After finding their way through a field of 28 lightweights, Michael Johnson and Jonathan Brookins met in the finals, with Brookins taking a competitive unanimous decision win.
Though time may prove otherwise, there doesn't appear to be many solid contenders coming out of season 12.
Nam Phan has already made a name for himself following the show's conclusion by getting robbed of an obvious decision win over Leonard Garcia.
Alex Caceres—otherwise known as Bruce Leroy—showed he has plenty of potential and a persona that could stick out to the fans.
And, Cody McKenzie proved that mastering one submission can take you pretty far against a field of newcomers.
Koscheck's constant preschool goading of St-Pierre was a bit too much to stomach week after week. It is one thing to be a smack talker, it is another to suck at it but do it anyway.
Following the show, coaches St-Pierre and Koscheck met at UFC 124 for the welterweight championship. St-Pierre won every round and kept his belt.



11. Season 9 (Henderson vs. Bisping)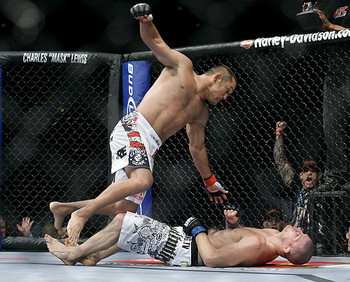 In season nine of TUF, the UFC switched things up a bit by pitting a team of UK fighters against a team of American fighters. Dan Henderson and Michael Bisping coached both lightweights and welterweights in a field that initially started as 32 fighters.
Lightweight winner, Ross Pearson, appears to be the only cast-member with a real shot of success in the UFC, and has already bested the likes of Dennis Siver, Aaron Riley and Spencer Fisher in the octagon.
James Wilks won the welterweight tournament, but has gone a dismal 1-2 since the show.
After a season of Henderson doing his best to ignore the constant trash talk of Bisping, the coaches met at UFC 100 in a highly anticipated middleweight clash. Henderson went on to knock Bisping out with his infamous right hand in the second round, in what many consider the most brutal knockout punch in UFC history.



10. Season 11 (Liddell vs. Ortiz)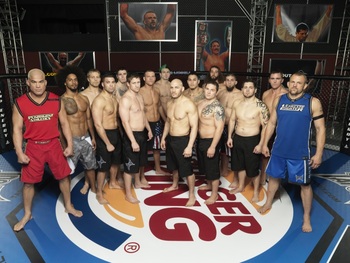 In an attempt to keep two faded former champions in the spotlight, the UFC pitted longtime rivals, Chuck Liddell and Tito Ortiz, against each other as opposing coaches in season 11 of TUF.
Though Liddell had already knocked Ortiz out twice in the UFC, they were scheduled to face each other a third time following the show.
Of the 28 middleweights, there was no clear favorite in the field. Kyle Noke seems to be the most promising talent following the show, but he was soundly beat by Kris McCray during the show.
Jamie Yager emerged as the heel of the season, constantly creating friction with his housemates but still turning in exciting performances. He was cut by the UFC after losing to Rich Attonito in his debut.
Near the end of the season, Ortiz was forced to pull out of his fight against Liddell due to a neck injury. He was soon after pulled from the show and replaced by Rich Franklin. Liddell and Franklin met at UFC 115, with Franklin winning by first-round knockout.
Court McGee won the tournament and has gone 1-0 since the show.



9. Season 7 (Rampage vs. Griffin)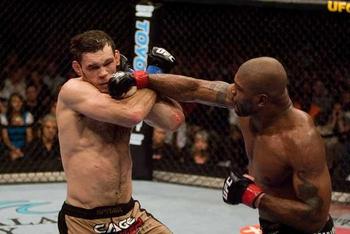 Season seven of TUF featured 32 middleweight hopefuls with light heavyweight champion, Quinton "Rampage" Jackson, and top contender, Forrest Griffin, handling the coaching duties.
Despite not having a single professional fight under his belt, Amir Sadollah emerged as the star of the season and winner of the tournament.
After Sadollah submitted C.B. Dollaway in the semifinals, he was set to face journeyman, Jesse Taylor, at the finale. However, Taylor was caught on camera vandalizing casino property and harassing customers while intoxicated just days after filming for the show had completed.
Dana White gave Taylor the boot for his misconduct and let Dollaway and Tim Credeur fight it out for a second chance at the finals, with Dollaway winning by a unanimous decision.
For a second straight time, Sadollah submitted Dollaway via armbar in the first round.
Other notable fighters that gained exposure in this season were Matt Brown, Gerald Harris, Mathew Riddle and Dan Cramer.
The coaches met at UFC 86 for the light heavyweight title. Griffin upset Jackson for the title in a thrilling five-round upset.



8. Season 10 (Rampage vs. Evans)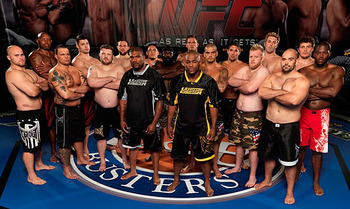 The UFC went all out in building an entertaining heavyweight cast for season 10 of TUF, and pitting rivals, Quinton "Rampage" Jackson and Rashad Evans, against each other as coaches.
The main selling point of this season was the inclusion of Internet-sensation turned MMA fighter, Kimbo Slice, in the tournament. Though, he was quickly dispatched in his first fight against veteran and tournament favorite, Roy Nelson.
The show also featured three former NFL players in Marcus Jones, Matt Mitrione and Wes Shivers.
The season was filled with constant bickering between the coaches, often spurring those around to separate the two.
However, immediately following the show, Jackson announced he was going to take a role in the A-Team movie and put his fighting career on hold. Still, the following year his match with Evans did take place and he lost by a unanimous decision.
Winner Roy Nelson has proven himself as a valuable contender in the UFC.
Mitrione, Jon Madsen and finalist Brendan Schaub are all making very impressive runs in the UFC, as well.



7. Season 8 (Nogueira vs. Mir)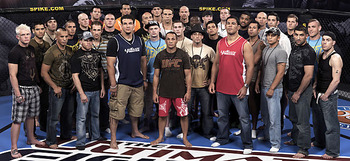 For season eight, then UFC interim heavyweight champ, Antonio Rodrigo Nogueira, coached opposite top contender and former champ, Frank Mir. The cast consisted of light heavyweights and lightweights.
This season is notorious for the constant emotional outbreaks from lightweight Junie Browning. Throughout the season, Browning was seen picking fights with other contestants, drinking, crying and vandalizing the house.
There were many that criticized the show for putting such an unstable person in a house with all the alcohol he could consume and nothing else to do but think about fighting. Still, it made for good ratings.
Ryan Bader won the light heavyweight tournament by knocking out Vinny Magalhaes in the final. Ironically, Bader was coached by Nogueira throughout the show and went on to achieve the biggest win of his career by outpointing Nogueira's twin brother Rogerio.
Efrain Escudero won the lightweight tournament, but after going 2-2 in the UFC, he was cut.
Mir went on to upset Nogueira for the interim UFC heavyweight title at UFC 92, winning by second-round TKO.
Other notable names to come out of season eight were Tom Lawlor, George Roop, Kyle Kingsbury, and Krzysztof Soszynski.



6. Season 2 (Hughes vs. Franklin)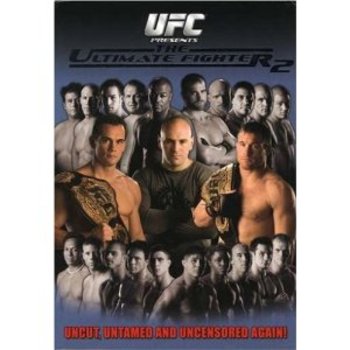 For a number of reasons, the second season of TUF just didn't match up to the standards set by its predecessor.
For one, the coaches, Matt Hughes and Rich Franklin, were not rivals, they were actually friends. There was no plan for the two to face each other, so the usual subplot of two top professional fighters that have to be near each other for weeks before they clash was not there.
Another twist that didn't bode well for this season was that coach Hughes tried to get all tricky and take out one of the other team's top prospects in the first fight of the tournament. So when Josh Burkman took out Melvin Guillard in the first fight, and in the process got himself injured, two of the favored fighters were already gone after just one episode.
And, this was before the show would keep fighters in the house even after they lost.
Nonetheless, the season was decent. Winners Joe Stevenson and Rashad Evans became major stars in the UFC, with Stevenson challenging for a title and Evans actually winning one.
Other notables to come out of this season included Keith Jardine, Marcus Davis, Jorge Gurgel and Seth Petruzelli.



5. Season 6 (Serra vs. Hughes)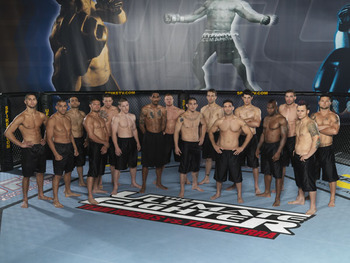 Season six really turned into the Matt Serra makes fun of Matt Hughes show.
Serra had recently upset Georges St-Pierre to become the welterweight champion, and his first defense was to come against Matt Hughes. It was no secret that Serra was not a fan of Hughes, and Hughes let it be known that he was not impressed by Serra.
The cast consisted of all welterweights, with Mac Danzig winning in the final against Tommy Speer. George Sotiriopoulos was a clear favorite to win the show, but in his semifinal match against Speer, he was poked in the eye and subsequently knocked out.
Many complained that Danzig had a very easy road to winning the show, as after submitting Joe Scarola, he just had to beat the unheralded John Kolosci twice to get into the finals.
The season also brought the infamous Jon "War Machine" Koppenhaver to the public's attention, and his finale bout with Jared Rollins was an all-time great battle.
Ben Saunders also made a name for himself in the UFC following the show.
Unfortunately, Serra injured his back before he could defend the title against Hughes, and the title fight was scrapped. Hughes fought St-Pierre instead for an interim title and lost in the second round.
Serra then fought St-Pierre for the first defense of his title and also lost in the second round.



4. Season 3 (Ortiz vs. Shamrock)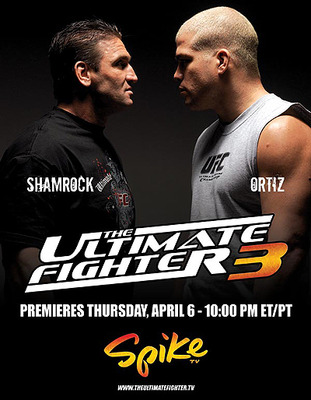 Season three came at a time when Tito Ortiz was still a star in the UFC and many people were still being fooled that Ken Shamrock might have something left.
The two of them fighting again may have been a novelty fight, but this is reality television and the two of them as rival coaches worked. Shamrock came off so bad on the show that it made Ortiz seem like one of the better guys in the sport.
Season three introduced a handful of captivating future UFC stars such as Matt Hamill, Michael Bisping, Kendall Grove and Ed Herman.
The many subplots kept each episode entertaining, even when a few of the fights were duds. All in all, this was one of the better seasons of the show.
Following its conclusion, Ortiz stopped Shamrock two more times, both coming by TKO in the first round.



3. Season 4 (The Comeback)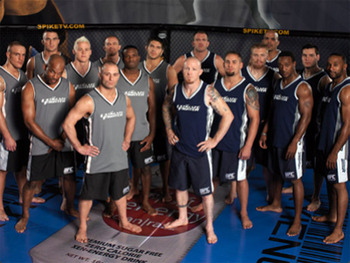 I really don't understand why the UFC and SpikeTV don't employ the format of season four again on future seasons.
Instead of appointing two coaches to lead a group of young aspiring fighters through six weeks of training, the cast was made entirely of former UFC fighters that would be given a second chance.
There were tournaments both at middleweight and welterweight, with the winner of each getting an actual title shot in the UFC.
Coaches would come in from time to time, but these guys had been at this a long time and knew what they were doing.
Without this season, the biggest upset in MMA history would never have happened.
Matt Serra won the welterweight tournament and got a shot at new champion, Georges St-Pierre, at UFC 69. Serra was obviously a massive underdog, but went on to stop St-Pierre in the first round. Without the show, there is no way he would have got himself a title shot.
Travis Lutter won the middleweight tournament, but his title shot against Anderson Silva was reduced to a normal three-round bout when he failed to make weight. Silva submitted him in the second round.
This season also relaunched the careers of Chris Lytle, Scott Smith, Patrick Cote, Jorge Rivera and Din Thomas.



2. Season 5 (Penn Vs. Pulver)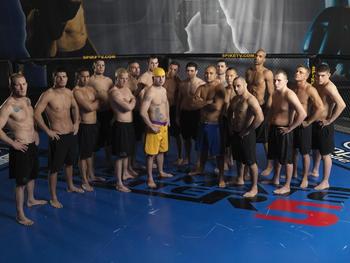 There has never been a TUF tournament as stacked as season five, where former lightweight champ, Jens Pulver, and former welterweight champ, B.J. Penn, coached a field of 16 lightweights.
Highlights include Gabe Ruediger trying to make weight, Karo Parisyan getting on Nate Diaz's bad side, and Marlon Sims and Noah Thomas in one of the most technical backyard fights ever.
Penn had lost a close decision when he challenged for Pulver's title in 2002, and ever since had been trying to get a rematch. Pulver never gave him one, but the two had agreed to fight at the conclusion of the season.
Notable fighters to come out of this season included Gray Maynard, Matt Wiman, Nate Diaz, Cole Miller, Manny Gamburyan and Joe Lauzon.
Penn went on to submit Pulver at the finale, spurring his title run that led to winning the lightweight title and defending it three times.



1. Season 1 (Couture Vs. Liddell)


In the first season of TUF, light heavyweight champ, Randy Couture, and top contender, Chuck Liddell, coached a field of eight middleweights and eight light heavyweights.
No other season of the show has come close to launching as many careers as this first season.
Chris Leben quickly became known for getting a little crazy with a few drinks. And Josh Koscheck did not take his time making enemies in the house, as he has for the rest of his career.
This show was a way for many people to become familiar with the sport of MMA. The finale, which will always be remembered for the epic battle between Forrest Griffin and Stephan Bonnar, was the first live UFC event not shown on pay-per-view.
Notable fighters that got their start from the first season include Griffin, Bonnar, Mike Swick, Leben, Diego Sanchez, Koscheck, Kenny Florian and Nate Quarry.
Following the season, Liddell knocked out Couture for the light heavyweight championship.