11-26-2012, 02:30 PM
Waiting for June 6th

Join Date: Jan 2009

Location: Basketball Capital of the World

Posts: 14,334
Rice, Elway, White, Hawk talk Thanksgiving
---
From ESPN.com: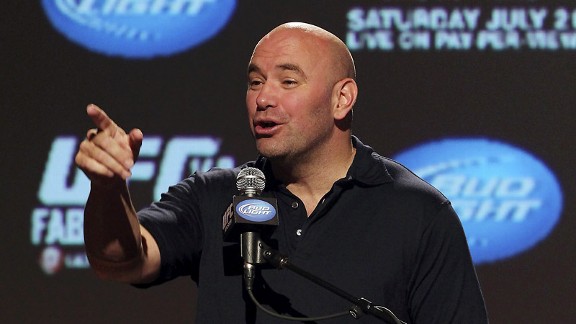 Quote:
UFC president Dana White and his family will head to Maine this week to celebrate Thanksgiving on his 100-acre property.

White and more than a dozen family members will ride snowmobiles, four-wheelers and "use every gun known to man," then settle down for a traditional dinner of turkey, stuffing and mashed potatoes.

"I can wreck a whole bowl of mashed potatoes," White said. "I know I could have it year-round, but I love eating it on that day."

And the family will likely rehash a memorable incident from 15 years ago:

"My sister, who married an Italian guy, put garlic in the mashed potatoes. I took a bite out of it and ugh! I hate garlic!" White said. "We got into a huge family blowout. It ruined my Thanksgiving. Don't ever put garlic in my mashed potatoes!"

That got Playbook to thinking about holiday traditions. So we asked several athletes and celebrities about what Thanksgiving means to them and their favorite foods.

Skateboarding legend Tony Hawk
Holiday tradition: "I'm usually home with my kids or with my family. My sister is a gourmet cook. She makes lamb and turkey. For the past few years, she's been great: buying the kids squirt guns and Nerf guns and letting them go crazy in the backyard for an hour or so before we eat."
Favorite food: "Mashed potatoes."

IndyCar driver Graham Rahal
Holiday tradition: "My favorite memories are of Thanksgiving at our family's house in Colorado eating massive amounts of food and being snowed in. It always gave you a very homey, comforting feeling knowing you're totally satisfied with where you were and the awesome food we were munching on."
Favorite food: "One thing I wouldn't go without is sweet potatoes. I am a sweet potato nut and the old-fashioned brown sugar and marshmallows mix is pretty unbeatable!"

Former football player and now TV host Dhani Jones
Holiday tradition: "My sister usually comes over to make a fried turkey. I'll be in Cincinnati and we'll have the whole family together."
Favorite food: "My dad used to make this smoked turkey in a clay pot. I would always come home from high school and I could smell that mesquite. That smoked turkey was amazing."

Former baseball MVP Jeff Kent
Holiday tradition: We'd typically be with family and friends and head to our ranch in south Texas. We'd be riding motorcycles and horses. We'd also hunt and fish."
Favorite food: "It's all about the turkey. Everything hinges on the turkey. Most of the time we try to get a wild turkey and a store-bought turkey."

Rapper Ludacris
Holiday tradition: "I'll be with my family and great food. Family is No. 1. It's time when you get them together and focus on love."
Favorite food: "It has to be my Aunt Sheila's sweet potato pie."

Actor John O'Hurley
Holiday tradition: For the past 11 years, we've been spending Thanksgiving Day in New York City. There is something really authentic about doing it there with the parade and everything. Now that we have a 5-year-old son, Thanksgiving takes on a whole new meaning. We take a carriage ride in the park and we either have Thanksgiving dinner at our friends' in the city or at the Boathouse in Central Park."
Favorite food: "I'm a turkey whore. But it has to have the cranberry sauce ladled on top where you can't even see the turkey."

Football legend Jerry Rice
Holiday tradition: "When I played football, we would have practice early that morning and then I'd get to spend the time with the family. I never played on Thanksgiving throughout my whole NFL career. That was one thing that always ached me."
Favorite food: "That would be sweet potato pie. I would starve myself throughout the meal to get to that. I couldn't put on any additional weight when I was playing. I just cut back on everything else to enjoy that pie."

Racing owner and driver Ed Carpenter
Holiday tradition: "As a child we always did puzzles with our entire family. Those are memories."
Favorite food: "Now I deep-fry all of our turkeys and that is always fun and a new tradition for me."

Former football player Vinny Testaverde
Holiday tradition: "We'd be celebrating at home with family and a few friends. It's a time to be appreciative of what we have."
Favorite food: "I guess I'm not a traditionalist. I'm Italian so I would say I love my lasagna. I'm sorry to say. If my mom was here, she'd make it. If she's not, then my wife would make it."

Football legend John Elway
Holiday tradition: "It's kind of changing. We have to wait to see how many kids are going to be home. We're adjusting to their schedules. When we do, it's a family day where we catch up on everybody's life."
Favorite food: "The special item would be my mom's stuffing. I don't know what's in it. My mom is a great cook. Her dressing was always different than everybody else's. That's the only kind of dressing I like."

U.S. Olympic gymnast Jake Dalton
Holiday tradition: "It's a pretty small affair. I don't know if my sister is going to make it. She lives in Colorado now. So it's me and my girlfriend with my parents and maybe my grandmother."
Favorite food: "I would say either mashed potatoes or ham. I love both of them. We always have ham and turkey. It's not a very big family, just four or five people, so we have leftover for the next few weeks."

2011 Indy 500 Rookie of the Year JR Hildebrand
Holiday tradition: "I remember the Thanksgiving night I got in trouble doing burnouts in my aunt and uncle's car."
Favorite food: "Pumpkin chiffon pie that my uncle Jeff makes. He owns that pie every year."

NASCAR Sprint Cup champion Brad Keselowski
Holiday tradition: "I'm heading home to see my family in Rochester Hills, Mich. I'm also going to my high school reunion. I do think it would be tacky to bring my trophy with me."
Favorite food: "I'm throwing it out there: I don't like turkey. My mom makes 3 great dishes: one is a macaroni dish with six bars of cheese on it; another is homemade noodles that doesn't sound great but it is; and the final things is a pot of beans with bacon."
__________________